presented by Acclaim Productions
May 29-June 19, 2010 | Fri-Sat at 8 pm
June 7 & June 14 | Mon 7:30pm
$15 gen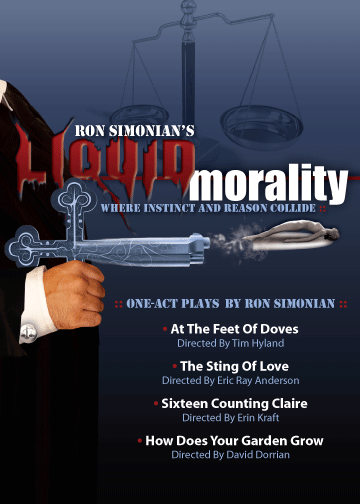 Liquid Morality, an evening of four short plays by award-winning playwright Ron Simonian, premiered Friday, May 28 at the Annex Theatre.  Themes of love, sex, money & power have been filtered through the dark and witty mind of Simonian.   Liquid Morality marks the debut of Simonian's work in Seattle.
Liquid Morality is a unique creative collaboration between Simonian and the lead actor in Liquid Morality, Tom Moriarty.  The pair met in Kansas City several years ago and have since co-produced many of Simonian's plays.
Moriarty commented, "We're interested in telling stories that are powerful, that people can connect to, and which also come at them from an unorthodox angle."
Simonian says that he tries to write plays that he himself would want to see.  "My work is based on searching the human experience for the hell that lies beneath the beauty, and the beauty that lies beneath the hell.  It is about asking the questions that most people avoid, yet still have in the back of their minds. At their heart, my plays are a search for the truth."
The show features performers and directors with deep roots in the Seattle theatre community.  This group includes Jim Gall and Tim Hyland, who have both appeared on all the major stages in town, as well as Erin Kraft, the casting director for the Seattle Repertory Theatre.
Liquid Morality runs through June 19.  The playwright will be in attendance for the final weekend of performances.
Reviews of Simonian's plays:
"Simonian's work crackles with wit and eroticism." – New York Times
"…absorbing and funny throughout." – Variety
"Beneath the malodorous world of Ron Simonian's plays are legitimate questions about ethics.  Nobody's writing plays quite like this. The quality of his craftsmanship makes a convincing argument that he's a playwright to keep an eye on." – Kansas City Star
"Simonian is a talent too hot for Kansas City." – The Pitch weekly
About the Playwright:
Ron Sominian is a native of Los Angeles, but has made Kansas City his home for the past 25 years.  He attended the University of  Kansas, where he majored in Theatre and Film.  Ron is a three-time winner of the National New Plays Network's Award.  At the Kansas City Repertory Theatre, Simonian has had three plays developed as part of the Playwright's Stage. He has also had productions of his work in New York City, Chicago, Los Angeles, Philadelphia, San Francisco and Kansas City.  His play Thanatos, which had an Off-Broadway run, has been published by Plays on Tape.  As a screenwriter, Simonian's films have received numerous festival awards, including 1st Place Long Narrative and 2nd Place Non-Narrative at the KAN Film Festival.
Liquid Morality Show Details:
AT THE FEET OF DOVES -Directed by Tim Hyland
THE STING OF LOVE – Directed by Eric Ray Anderson
SIXTEEN COUNTING CLAIRE – Directed by Erin Kraft
HOW DOES YOUR GARDEN GROW? – Directed by David Dorrian
Featuring: Jim Gall*, Kelly Kitchens*, Paul Klein*, Tom Moriarty*, John Murray,  Adrienne Littleton and Simon Hamlin
* Denotes member of Actors' Equity Association.
Please Note: Due to adult subject matter and language found in the plays, no one under 14 years old will be admitted.